2021 Home Design Trends
April 1, 2021
It's a new year which means it's time to update your décor or possibly upgrade your home. Whether you are tired of staring at your kitchen after being homebound in 2020 or you're planning to take advantage of low interest rates in 2021 by purchasing a new home, it's time to prioritize your wants vs needs and get to decorating.
There's no doubt 2020 shaped, or re-shaped, home design trends and forced homeowners to decide what is most important for them. Here's a look at what home builders and homeowners are looking for in the latest home design trends for 2021.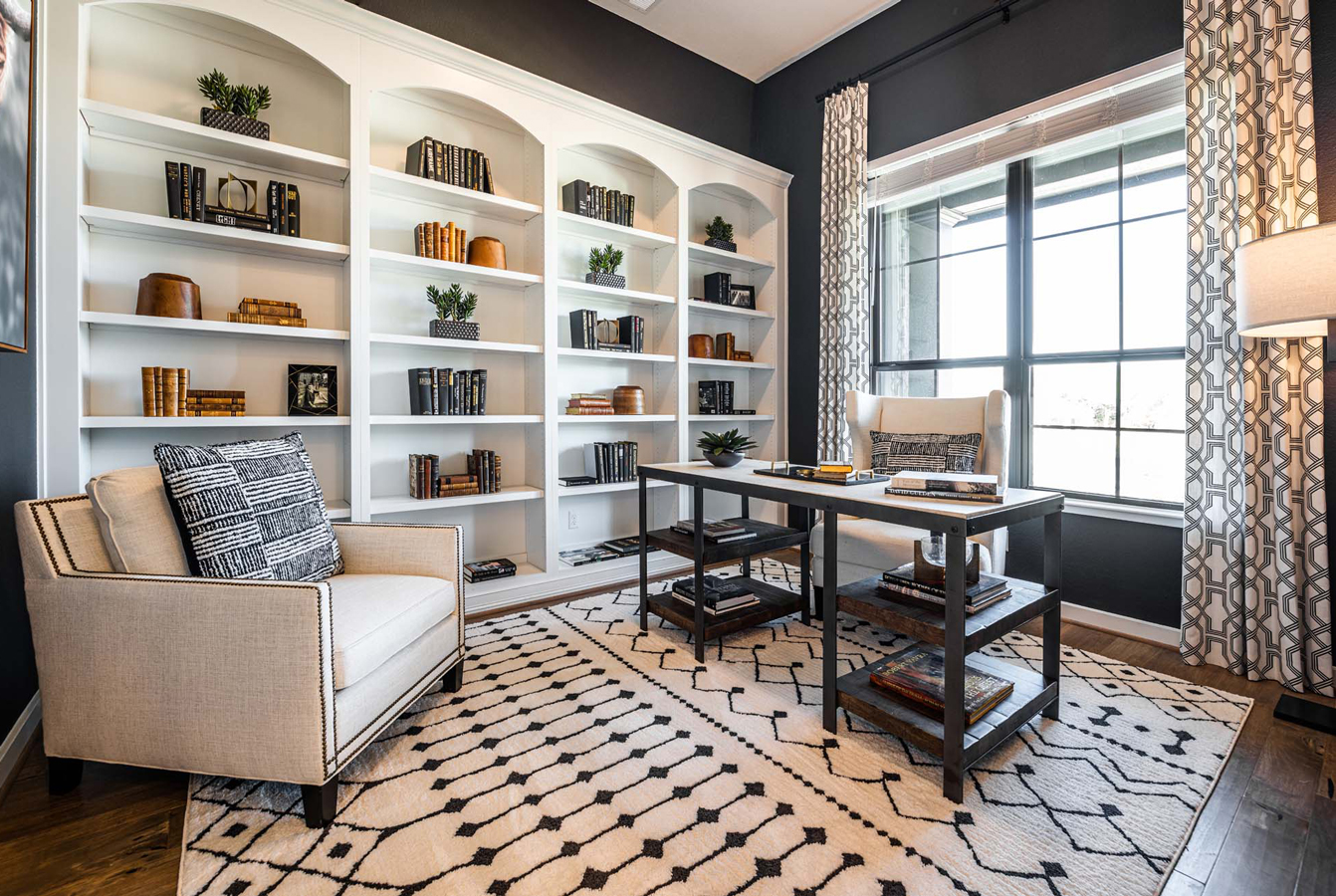 Dedicated Home Offices
2020 saw many of our work environments abruptly switch from corporate offices to new, often ill-equipped, work-from-home setups. Now, with many employers allowing employees to work remote permanently, having an adequate home office is more important than ever. In 2021, homeowners are stepping away from the kitchen table and creating a space that fits their 9- to -5 needs. Whether you're building a new construction home or renovating your current house, an efficient home office, away from the chaos and television noise, is on the top of the list for almost every homeowner.
You may not be driving to the office every day but it's still important, maybe more so now than ever before, that homeowners have a dedicated space that allows them to focus during work hours, then shut the office door and seamlessly transition to personal life after work hours.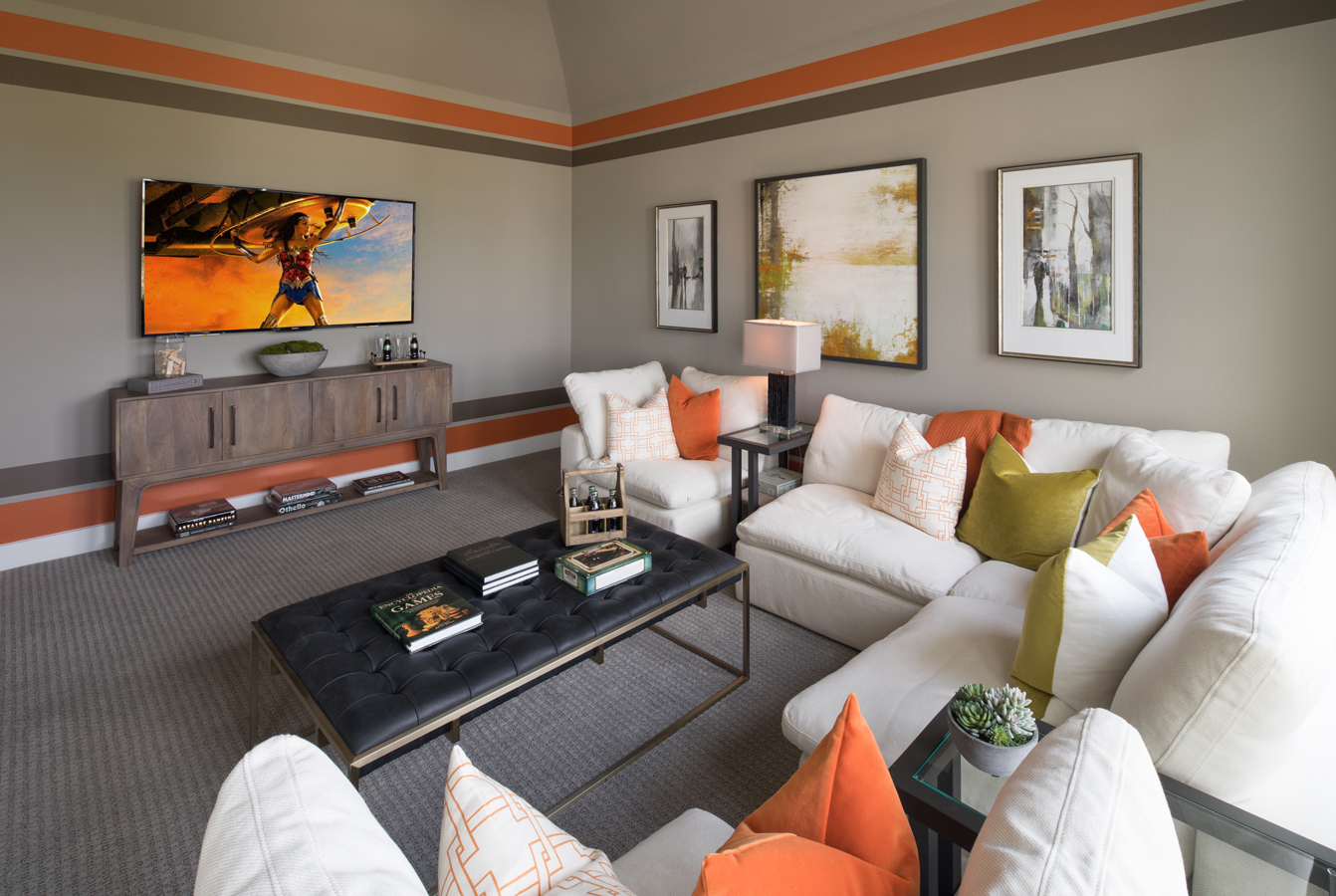 Clearly Defined Rooms and Spaces
Remember when open concept ruled all? While it's still valued by many, 2020 taught families the value of defined spaces and being able to have their own room for everything from quiet time to studying to working out. Homeowners are now seeking to define spaces, or create nooks within open floor plans, that will easily allow for family gatherings or for family members to step away and enjoy personal time.
What does that look like exactly? Don't worry, it's not tiny rooms within the home that result in a cramped feeling. Instead, it's unique pockets or loft-style rooms for e-learning, home workouts, lounging, and more. There is such a thing as too much togetherness, or so we found out during the pandemic. These rooms allow for individual hobbies, personal time and work to be uniquely "yours" in a time where that once seemed impossible. Additionally, many new home buyers are looking for more space to accommodate their multigenerational family, giving each member a defined space within the home.
Houseplants and Indoor Gardens
Last year, people were confined to their home and unable to get their nature fix, emphasizing the importance of the great outdoors. Whether you were staying indoors or taking walks around your neighborhood to simply occupy your time and breathe some fresh air, the benefits of trees and flowers was never more evident. This has led homeowners to want to bring the outside in in 2021.
This year you'll see homeowners and those building their dream home, continue to plan around indoor and outdoor gardens, making room for more living plants as well and adding plenty of windows for natural light. Think more zen and monochromatic relaxing vibes to bring the outdoors in!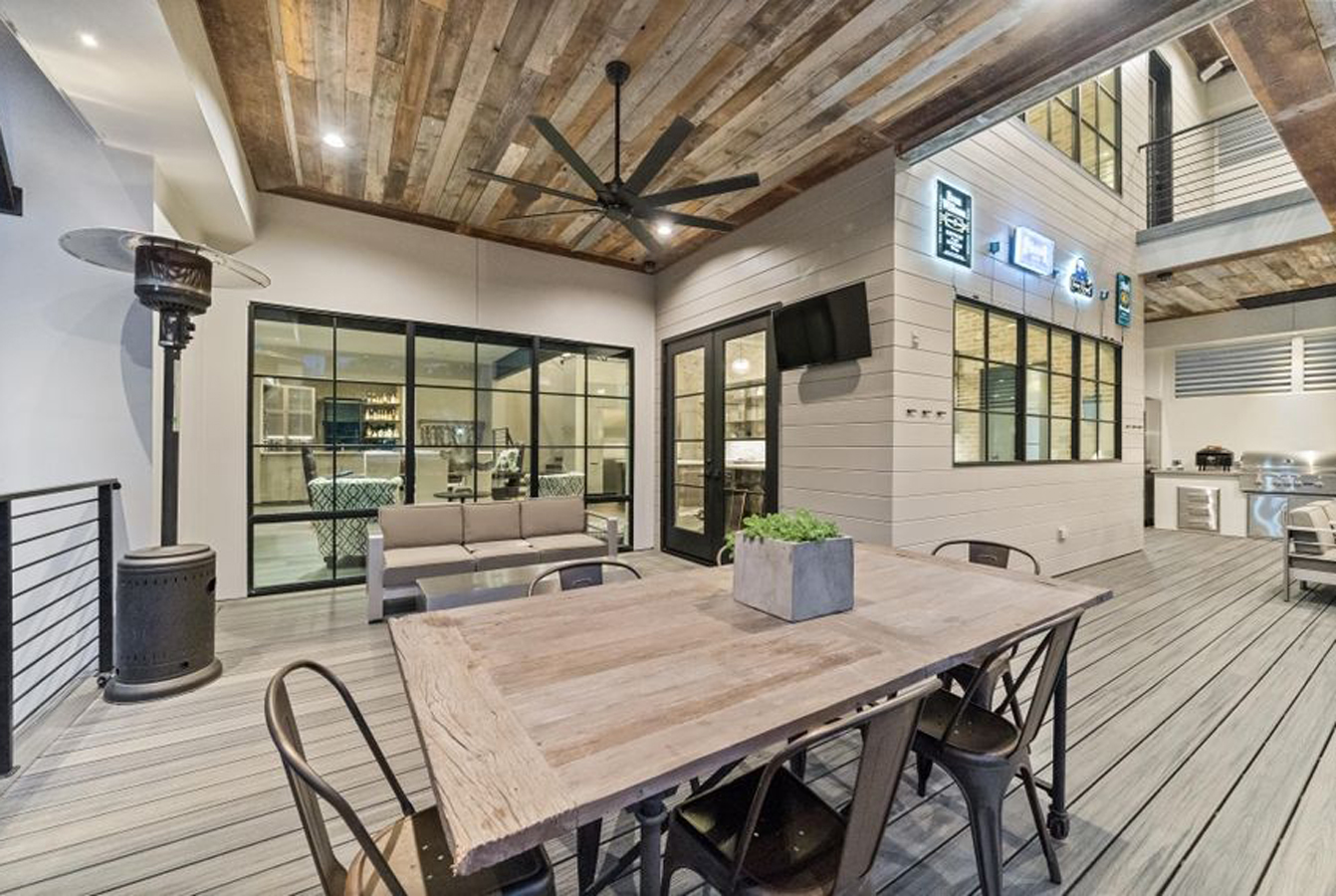 Outdoor Living Spaces
The pandemic forced families to step back from their typically hectic lives filled with sports practices, vacations and commitments, only to embrace their loved ones and find the same sense of adventure within their home or backyard. To the surprise of many, being at home was exciting and finding new ways to have fun was an adventure in and of itself. Now, homeowners and new home buyers are prioritizing outdoor living spaces that include pools, elaborate playgrounds and outdoor kitchens.
Outdoor living spaces are creating a vacation-feel without leaving your home and families in 2021 are excited about it. With our larger Cane Island homesites and year-round Texas sunshine, your family will enjoy ample room to build an outdoor living space that will have you saying, "let's stay home" more often than ever before.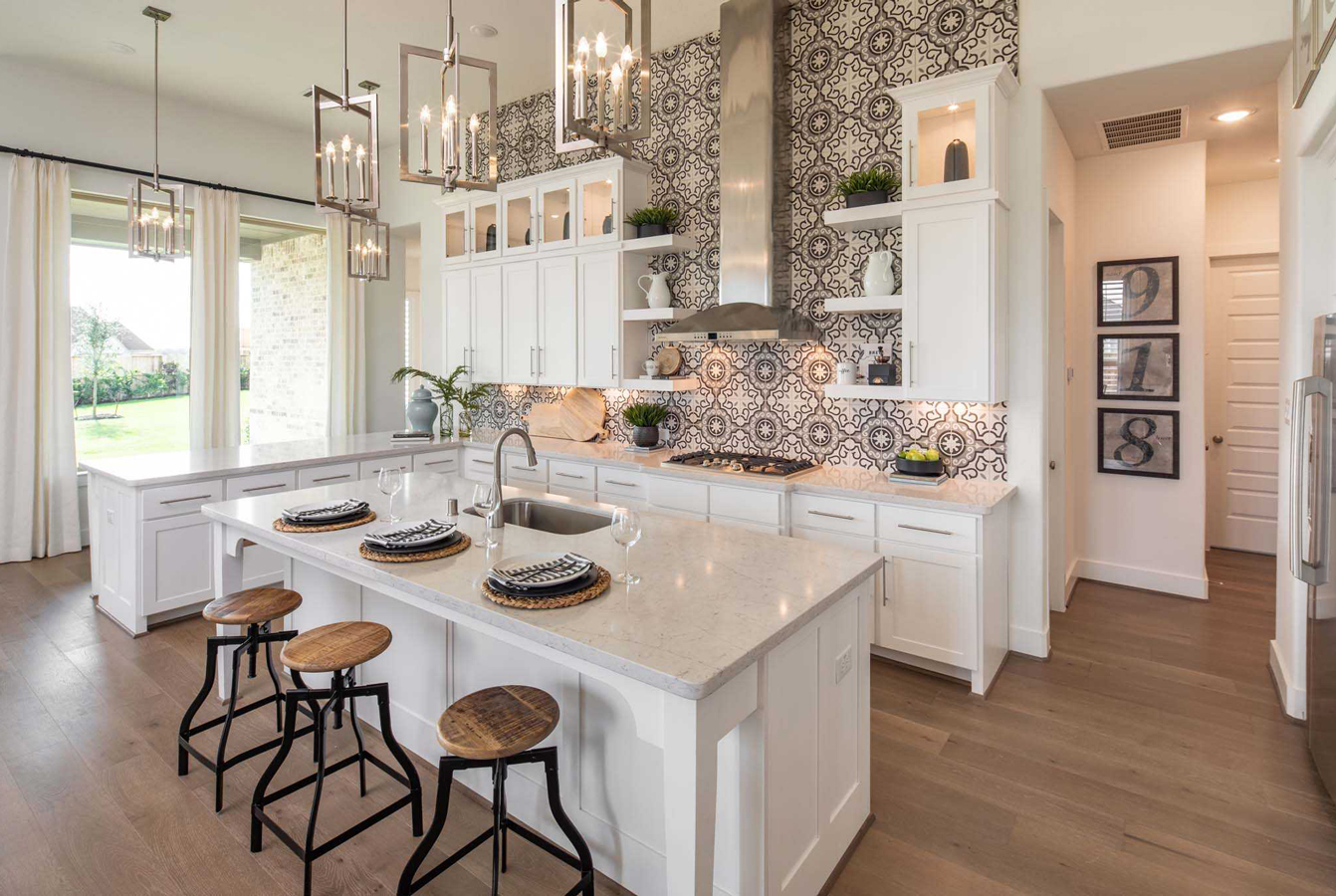 Fun and Functional Kitchens
Now that families are accustomed to cooking at home, as opposed to the previous default of dining out, homeowners are wanting fun and functional kitchens. It's not news that the kitchen is the hub of the home, especially for families and regular entertainers. However, many who once preferred restaurants are now enjoying cooking and baking.
Kitchens are one area of the home where open concept still reigns supreme and that's not changing in 2021. Novice and professional cooks alike are designing kitchens with top-notch appliances, playing with bolder colors, using luxe finishes while incorporating islands that allow for more storage and gathering space to sit and join the conversation.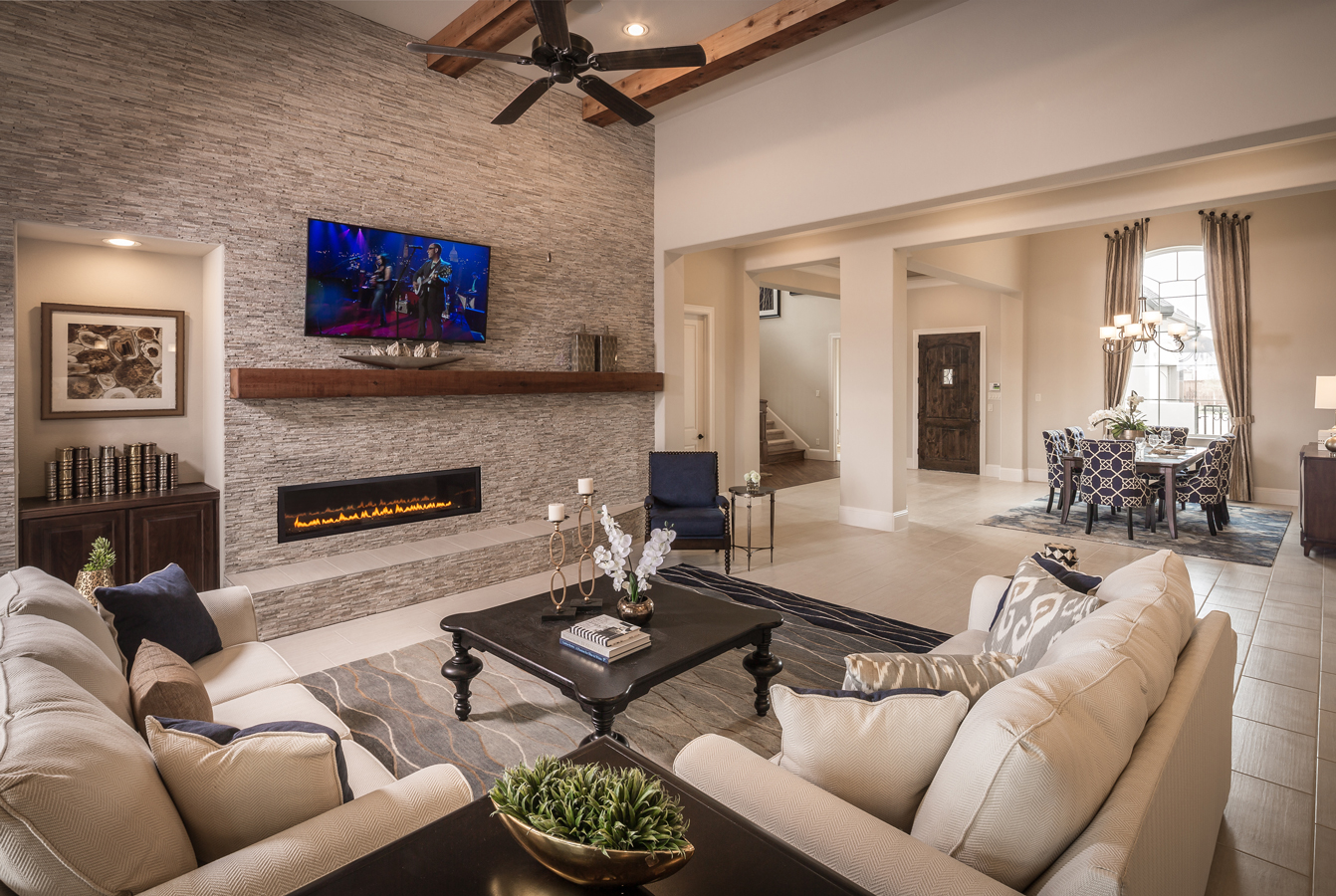 Varieties of Texture
Neutrals are no longer boring in design. This year, homeowners and designers are incorporating more neutrals, such as white, cream, beige and sage green, into their color scheme. If you're thinking blah, think again! This monochromatic look, coupled with rich textures and natural elements such as jute, rattan, oak or marble, create a luxuriously rich environment while still remaining serene.
Fear not, color lovers. A neutral room is a great canvas for those colorful pieces you love most, allowing them to pop and make their own statement within the room.
Home Gyms
Remember when you rushed to make it to the gym on time for your favorite class or stopped by for a quick workout after leaving the office? Thanks to virtual classes, luxury spin bikes with overly excited instructors, and countless apps that bring celebrity trainers into your home (for a fraction of the cost) home gyms are the way of the future. So it's no surprise that homeowners are wanting a dedicated space for a home gym.
Sure, a garage is always an option but many new home buyers are incorporating this room into their design and floor plan preferences. While our amenity-rich master-planned community has an on-site fitness center and yoga room, having an in-home fitness studio is a luxury many are opting for in 2021.
Gallery Wall
If 2020 and an unprecedented global pandemic taught us one thing, it's the importance of family. Homeowners are embracing an old classic and creating artful gallery walls that showcase family adventures, sketches, old black and white images, and family keepsakes, paying homage to people who came before, the ones we laugh with daily, and the moments we never want to forget.
These gallery walls can be elaborate stairwell art or simple designs in guest rooms. Whatever option you choose these walls should be a reflection of your heritage, telling the story of you. Include antique frames with a mix of metal and wooden frames to give an eclectic but intentional design that will have people reading the story of you and your family in a visual book displayed beautifully on your walls.
While design trends are known to shift and expected to ebb and flow year after year, 2020 and the ramifications of the pandemic have brought about trends we are excited to see and know that many of our Cane Island families will embrace. From outdoor living spaces to home gyms to the all-important functional kitchen, our Cane Island new home builders can help you create a space that will fit your family's needs and embrace all the good things that came from a year full of unpredictability.
Learn more about Cane Island, a new home community in Katy, TX or meet our award-winning builders and start designing your dream home today.